All you need to
purchase

,

transfer

,

operate

&

resell

Burns.
Contact us

on Discord for any other question

How do Burns
work

?

Burns are designed to guarantee you are the only one enjoying the exclusive content they hold. For that there are 2 parts on the Wall Burners technology :
1 > The Marketplace
This website (WallBurners.art) where you can explore, discover and purchase Burns.
The My Burns page lets you interact with your Burns, for example transfer them to a device or put a them back on sale.
2 >the App
The app that runs on your phone and lets you securely enjoy the exclusive content of your Buns, cast it on a TV or locate the artworks on a map.
Imagine it as your private room where you can enjoy your art. Technically, your exclusive content is encrypted and gets re-encrypted every time it changes device.
To make it simple :
Burn are purchased on the
Marketplace

and transferred into the

App

to be securely enjoyed.

How do I
purchase

a Burn?

For each artwork featured on Wall Burners, you can purchase Burns at different prices.

Each Burn contains exclusive content and cancome as unique,  ultra-rare or rare (meaning that several people can own Burns with identical content, but all are still unique, with a unique serial number and authenticity certificate. Think of them as numbered original prints).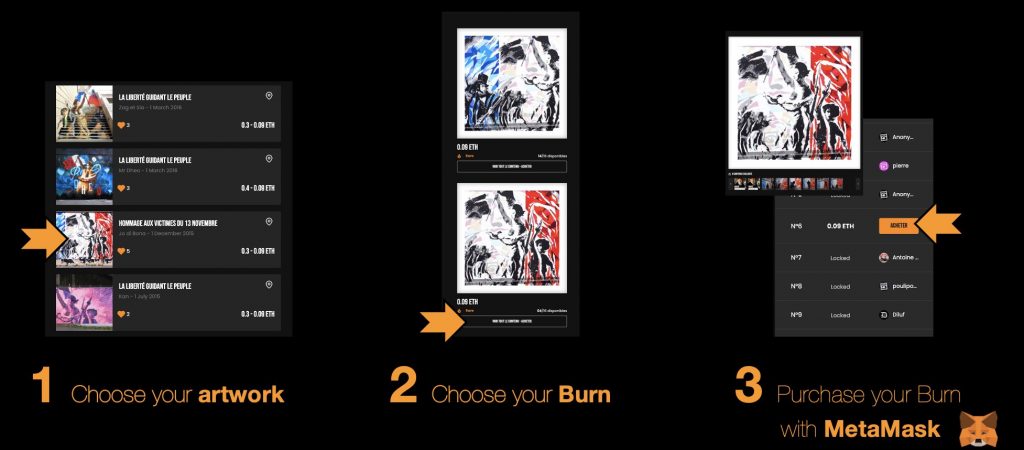 To purchase a Burn, just click on the purchase button on the Burn page, login to your Metamask wallet and to follow the instructions. You will need to add the gas fees as with any Ethereum purchase.
Once purchased, your new Burn appears in My Burns and in your wallet as a WBR token.On the marketplace, it is shown as NOT FOR SALE and you are displayed as its Owner.
Notes :
Metamask might not update itself automatically and you may need to

manually add the WBR token

by clicking on

Import Tokens

You will receive a

purchase receipt

in ETH and Euros (including VAT) soon after your purchase otherwise you can download it in

My Burns

.
Burns are immaterial items and as such and there is

no legal retraction period

when you purchase one. Please refer to our Sales policy.
You can hide/show your ownership of a Burn directly on the menu in

My Burns

.

How do I
transfer

a Burn to my device ?

Remember Burns can only be displayed in a device running the Wall Burners App, so first download the App on your device (here)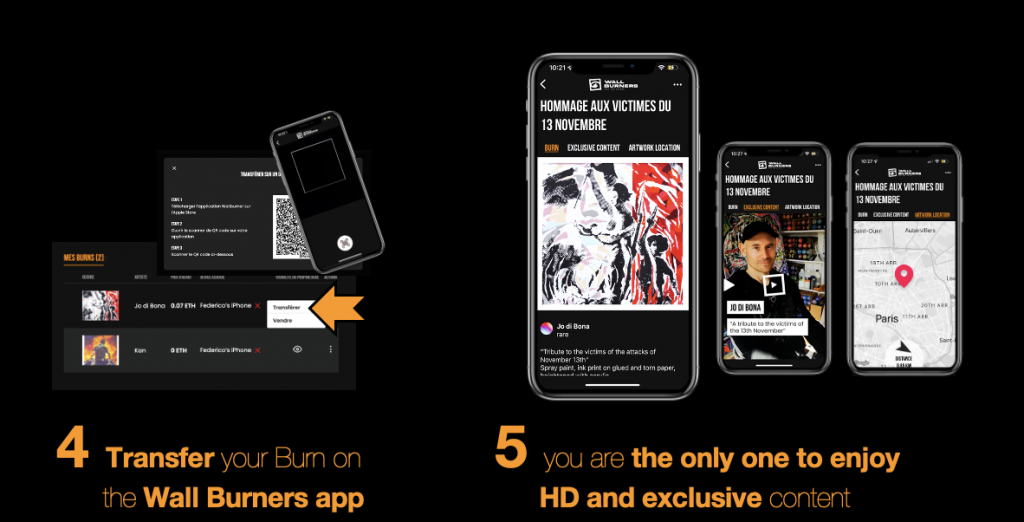 Go on My Burns, connect your Metamask wallet and click on Transfer to device on the Burn you want to transfer.

To transfer your Burn on the same device (if you are browsing the Marketplace on your phone for example) just click on the top banner. The Wall Burners App will launch with your Burn already available

To transfer the Burn to another device (if you are browsing on a desktop, of if you want transfer a Burn to a friend for example), you will need the QRcode. Launch the Wall Burners App and click on Import Burn, scan the QRcode and your Burn will be available immediately
That's it ! You can now enjoy your Burn on this device.
Notes :
Burns can be accessed on one device at the time. Once transferred on a device, it won't be accessible anywhere else

My Burns

 keeps track of which device your Burn is on.
You can hide/show your ownership of a Burn directly on the Burn menu itself.

How do I
resell

a Burn ?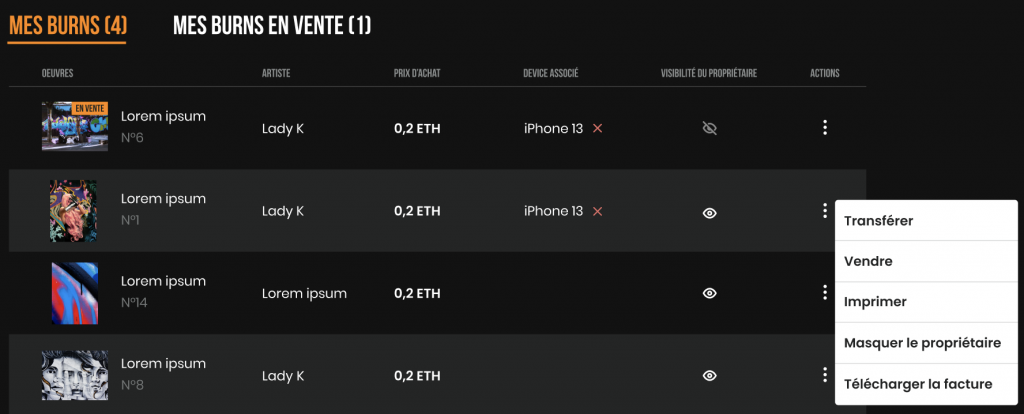 You can put your Burns back for sale on Wall Burners at any time by clicking Sell on the Burn in My Burns. You will be asked to set a sell price, and your Burn will be immediately available for sale on the marketplace.
Notes :
You set price in ETH

without the gas fees

Once you put your Burn on sale any offer matching your price will be accepted.
Wall Burners will take a

5% transaction fee

that will be split with the Artist. You will thus only receive 95% of the sales price on your wallet.
Can I resell my Burns on
other NFT platforms

(opensea for example)?

Absolutely, just as you would with any other NFT on Ethereum. The new owner would then go on the Wall Burners Website, connect his Metamask to be able to transfer the Burn on his device. Just like you did.