Meet a passionate
curator
A graduate in art history at the University of Paris I, Panthéon Sorbone joined the Louvre Museum in 1993 where he in turn developed educational programs for schoolchildren and the public with disabilities, organized the touring of educational exhibitions around the world and then programs the museum's Youth evenings.
Having become head of the artistic education department, he worked to find ways to bring young people to the museum. It was then that he initiated a "street art season" inviting urban artists to appropriate the museum's collections.
Street art inherits from the
old masters
Author of two books showing the heritage of the old masters in street art, he imagined in 2019 the exhibition "Veni, Vidi, Vinci – Urban art facing genius" at the Fluctuart urban art center. Convinced of the role that urban art plays for a virtuous transformation of society, he founded the association M.U.R. Bastille exhibiting four urban artists per year and joins that of the M.U.R. Oberkampf.
After "Circuit court" in Le Havre in the summer of 2021, in the spring of 2022 he signed a committed double commission "Incursions sauvage" and "Dives into troubled waters" demonstrating that urban art is invested with the questions of our current events.
Discover

his collection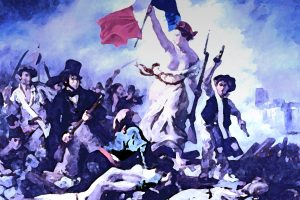 Liberty was born

in the street