CAPTURE
& COLLECT
THE EPHEMERAL
Collect the

official NFTs of

ephemeral artworks 

Wall Burners creates the only official digital versions of ephemeral art. There will never be another, their creators guarantee it in the certificates included in the NFT.

The Wall Burners NFTs offer rich and exclusive content that aims to bring artists and collectors together around common experiences. They open exclusive access to the creative process and offer an unprecedented level of proximity with the artists.
"Wall Burners is committed to create a
new breed of digital artworks

.
We believe

Art

and

Technology

must work hand in hand to make it happen."
DIGITAL UNIQUES

– more than NFTs

All Wall Burners NFTs are "Digital-unique".

Their exclusive content (images, videos, certificates…) is only accessible to their owner on one smartphone at a time, just like a physical work of art that is only visible in one place at a time. These are collectibles unique and encrypted which we enjoy exclusively thanks to the Wall Burners Reader app which combines advanced security technologies such as DRM and Watermarking.

This approach allows Wall Burners to create a truly exclusive experience by ensuring that each owner is the only one enjoying content that has never leaked on the networks.

OWN
EPHEMERAL ART
Wall Burners creates a direct and structured relationship with the artist using an exclusive technical and legal framework which secures the collector's investment. In addition, we apply a strict procedure to delete any residual copies on computers, clouds or cameras used in production.
Our NFTs generally contain:
High definition images of the works validated by the artist
A certificate of authenticity
Private exploitation rights for all content
Exclusive making-of footage
A timelapse of the creation of the work
Access for vernissages and exhibitions
Exclusive interviews with the artist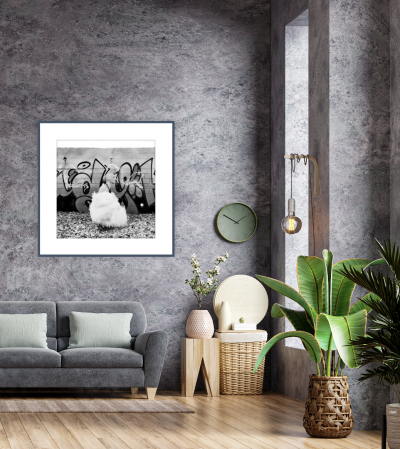 Professional prints –
signed by the artists
Owning a Wall Burners NFT also gives you the privilege of being able to purchase a museum-quality printed copy featuring the artist's original signature. We produce these prints in partnership with the most referent digital printers in Paris: Labortatoire Picto.
Our unique process lets you obtain large format printing, of the best possible quality while being sure that all digital copies that will have circulated will have been destroyed.
Support the
street community
Wall Burners works with local homelessness organisations. So when you buy an NFT, part of your investment goes back to the streets and especially to those who need it most: The homeless.
In Paris we are proud to work with the women and men of Samusocial de Paris.
How does it
work

?

You can mint our NFTs directly on our site with your Metamask wallet. These NFTs can then be resold on any NFT platform (on ETH).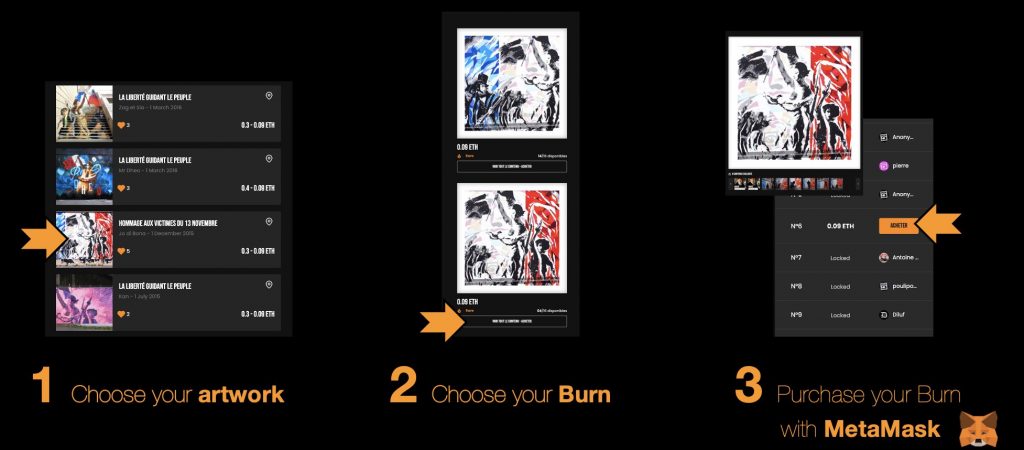 To take advantage of the exclusive content, all you have to do is:
Connect

to the Wall Burners website with your Metamask wallet (top right menu)
Select your NFT and

click on "Transfer"

to generate the transfer QRcode (this QRcode has a lifespan of a few minutes)

Scan the QRcode

with the app Wall Burners Reader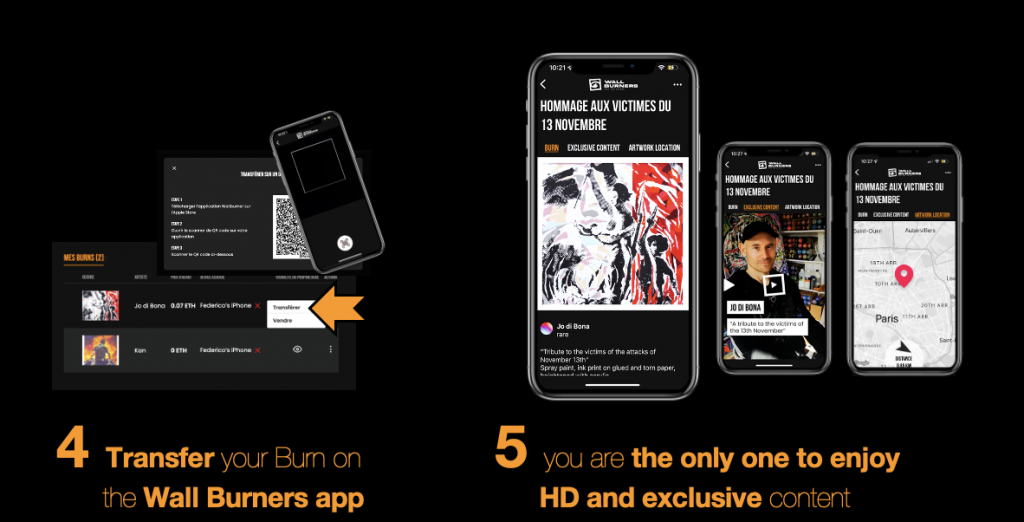 We are
Wall Burners


We

change the game




Burn

with us